DEFLEX Flexible Bike Lane Delineator and Bollard
GREEN AND BLUE DEFLEX BIKE LANE POSTS
This high-performance Deflex flexible delineator for bike lanes is a durable marker to set boundaries on the road. Safer than a rigid delineator and clearly visible day and night, it has been designed for the safety of the most vulnerable road users. Lightweight and resilient, the Deflex delineator is made of a treated polymer blend to withstand harsh weather and vehicle impacts, and keeps its shape after as many as 200 impacts at medium speed. Usually spaced 15 m (50′) apart on a straight line or 1.5 m (5′) apart on curves or at intersections. This delineator comes with yellow or white reflective sheeting, according to the road markings. It is a great traffic calming idea for the Vision Zero approach.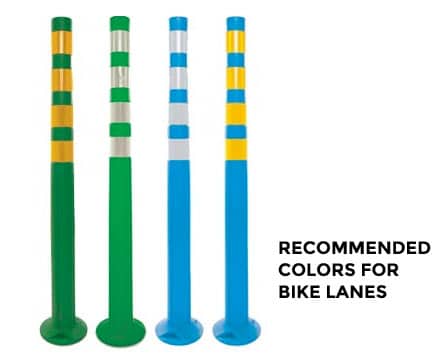 CLEAR & SAFE LANE MARKING

FLEXIBILITY GREATLY REDUCES CYCLIST INJURIES

EASY INSTALLATION ON MULTIPLE SURFACES

QUICK SEASONAL INSTALLATION

1200 mm (48″) HEIGHT WITH FOUR (4) REFLECTIVE SHEETING STRIPES


VISIBLE AND FLEXIBLE 360°


FEATURES OF THE DEFLEX FLEXIBLE BIKE LANE DELINEATOR AND BOLLARD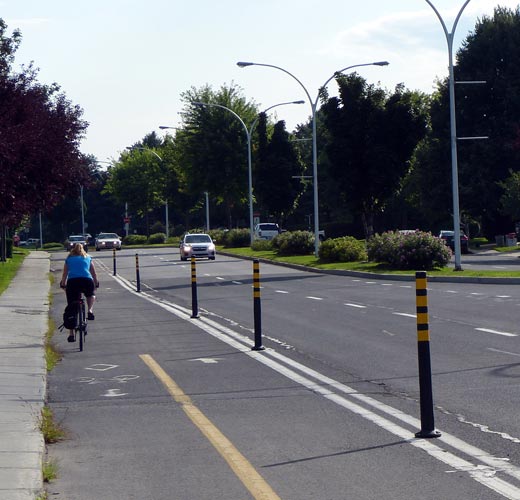 EASY TRANSPORTATION AND HANDLING
100 Delineators per 1118 x 1270 x 1956 mm (44″ x 50″ x 77″) pallet.
100 Delineators and 100 Stabilizers in a 2.4 m (8′) pick-up truck.
MONOHULL
No mechanical pieces for easy maintenance. Reduces debris if damaged.
VERSATILE INSTALLATION OF THE DELINEATOR
This delineator can be installed permanently (bolted-in or glued), moved with a 7.25 kg (16 lb) weight base stabilizer or anchoring system for an easy-in, easy-out installation.
THE DELINEATOR IS UV-PROTECTED AND SOLID COLOR
A protective additive integrated in the polymer of the delineator protects color from fast fading.

Durable and flexible bike path delineator and bollard
The DEFLEX delineator post is made of flexible polymer and regains its original shape even after more than 200 impacts.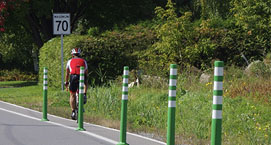 Bike lanes
We encourage bicycle use by providing solutions that increase road safety for the more vulnerable.
See the products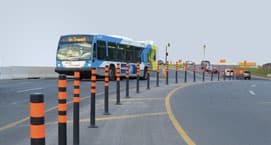 Flexible delineator
Flexible road delineators that maximize safety for all road users, available in several colors.
Find out more

Rubber stabilizer 7.25kg / 16lb #33769

Standard installation kit #31094

Adhesive mastic for temporary installation #MA8C-DEFLEX

K-style sleeve anchor adapter #BS114-K

Sleeve anchor adapter #BS114

TECHNICAL SPECIFICATIONS OF THE DEFLEX FLEXIBLE BIKE LANE DELINEATOR AND BOLLARD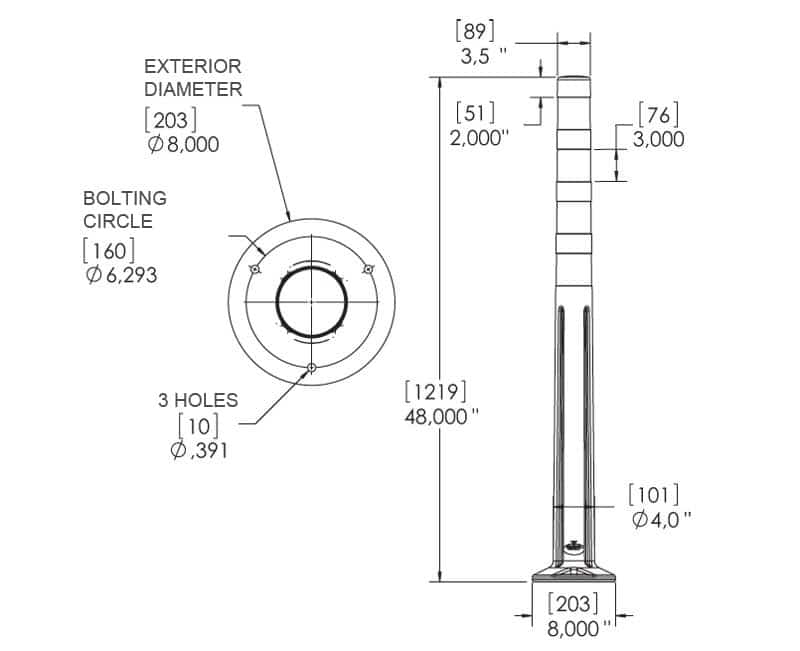 PRODUCT NUMBER
30821: Green with Yellow Sheeting
32407: Green with White Sheeting
33855: Blue with Yellow Sheeting
33553: Blue with White Sheeting
MATERIALS
Delineator: Flexible Polymer with anti-UV
Sheeting: Diamond grade "prismatic", type IV
COMPOSITION
Molded-in and non-detachable flexible cap.
Four (4) embedded stripe sections protected from damage.
3M prismatic grade (type IV) reflective sheeting, flexible and visible on 360°.
Many colors available, pigment integrated into the polymer material.
DIMENSIONS
Height: 1220 mm (48″)
Diameter: 90 mm (3.5″)
Weight: 1.5 kg (3.3 lb)
Sheeting: 76 mm (3″)
CERTIFICATIONS
MTQ T-RV-10
GUQ-1036
FEATURES
Proven product since 2012 in harsh weather conditions and in temperatures between -20 and +35°C (-4 and +95°F).
PERFORMANCE
360° of flexibility and visibility.
The Deflex delineator withstands 200 impacts at 70 km/h (45 mph) and regains its original shape, even after being crushed by the wheels of heavy trucks.