PMSA Modular Wayfing Sign
Ideal for administrative institutions such as municipalities, governments and others, the PSMA Aerovision modular wayfinding signs offer great visibility and comply with the most recent graphic standards. Entirely made ​of powder-coated aluminum, the PSMA is comprised of Aerovision aerodynamic elliptical designed panels to withstand harsh weather conditions and winds up to 195 km/h (120 mph).
For installation, simply attach the PSMA on concrete sonotubes (dia. 406 x 1524 mm / 16ʺ x 60ʺ) or on an existing concrete slab at least 4ʺ thick. Visually pleasing, the PSMA enhances the public image of an administration and helps to direct visitors to the different services.
Available in five (5) sizes and six (6) configurations.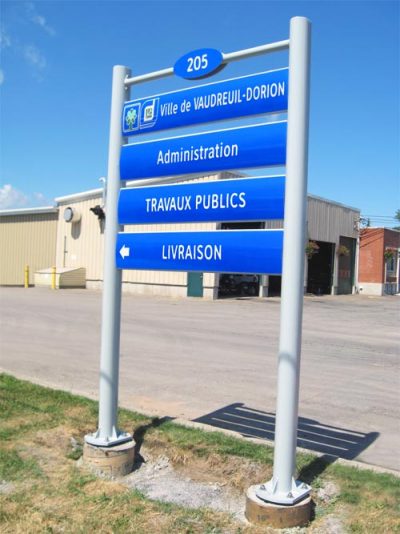 IMPROVES WAYFINDING VISIBILITY

EXCEPTIONAL RESISTANCE TO WEATHER CONDITIONS

ENHANCES MUNICIPALITY IMAGE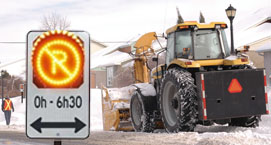 Parking Management
Efficient communication is key to providing safe parking areas for drivers and pedestrians.
See the products
Chemical anchors (4X) Concrete installation (min. 4″ width) #KITF-AERO-B
J anchors (4X) 3/4-10 x 24″ Sonotube installation #KITF-AERO-J

TECHNICAL SPECIFICATIONS OF THE MODULAR WAYFINDING SIGN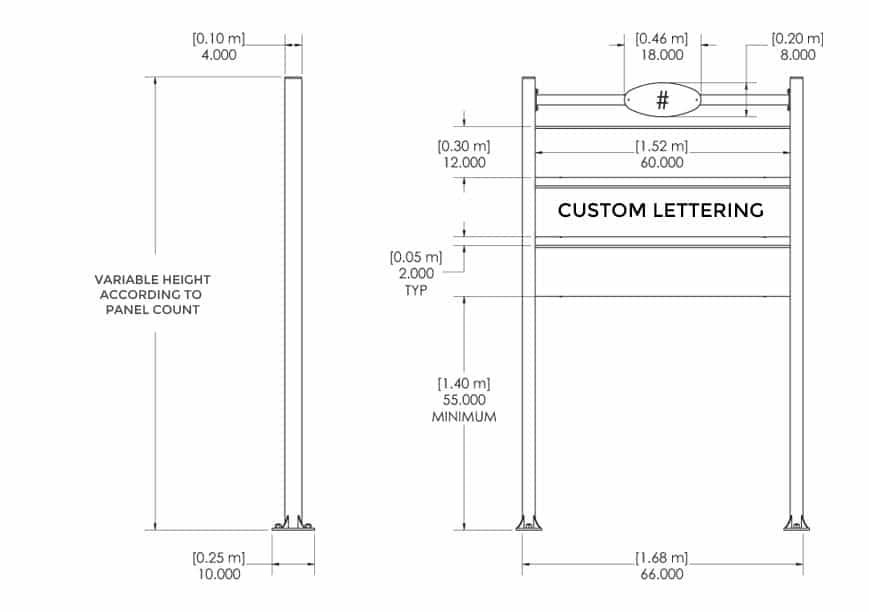 PRODUCT NUMBER
PSMA-1
(or -2, -3, -4, -5, -6)
PRODUCT NUMBER WITH CIVIC NUMBER
PSMA-CN-1
(or -2, -3, -4, -5, -6)
POST DIMENSIONS
Diameter (oval): 73 x 102 mm (3ʺ x 4ʺ)
Height: (according to number of panels)
Clearance: minimum 1.4 m (55ʺ)
PANEL DIMENSIONS
Width: 1.5 m (60ʺ) Standard
(other widths available upon request)
Height: 305 mm (12ʺ)
Weight: 13.6 kg (30 lb)
Lettering: Custom
MATERIALS
Structure and Panel : Aluminum
Sheeting, Background : Diamond grade "prismatic", type IV
Sheeting, Lettering : Reversed, Translucent Film
AVAILABLE COLORS
Structure and Panel: According to the RAL Classic Chart
Sheeting: According to the 3M 1170 Series