Kamelion PLVV Speed Display Sign
VARIABLE SPEED DISPLAY
The Kamelion-PLVV speed display is a variable speed limit sign that changes according to a programmable schedule. The appropriate maximum speed limit can be selected according to a schedule (daily, weekly and annually). The KAM-PLVV is equipped with flashing beacons which activate when the lowest speed is displayed. It is an excellent school zone safety tool to draw attention of the speed limit during school hours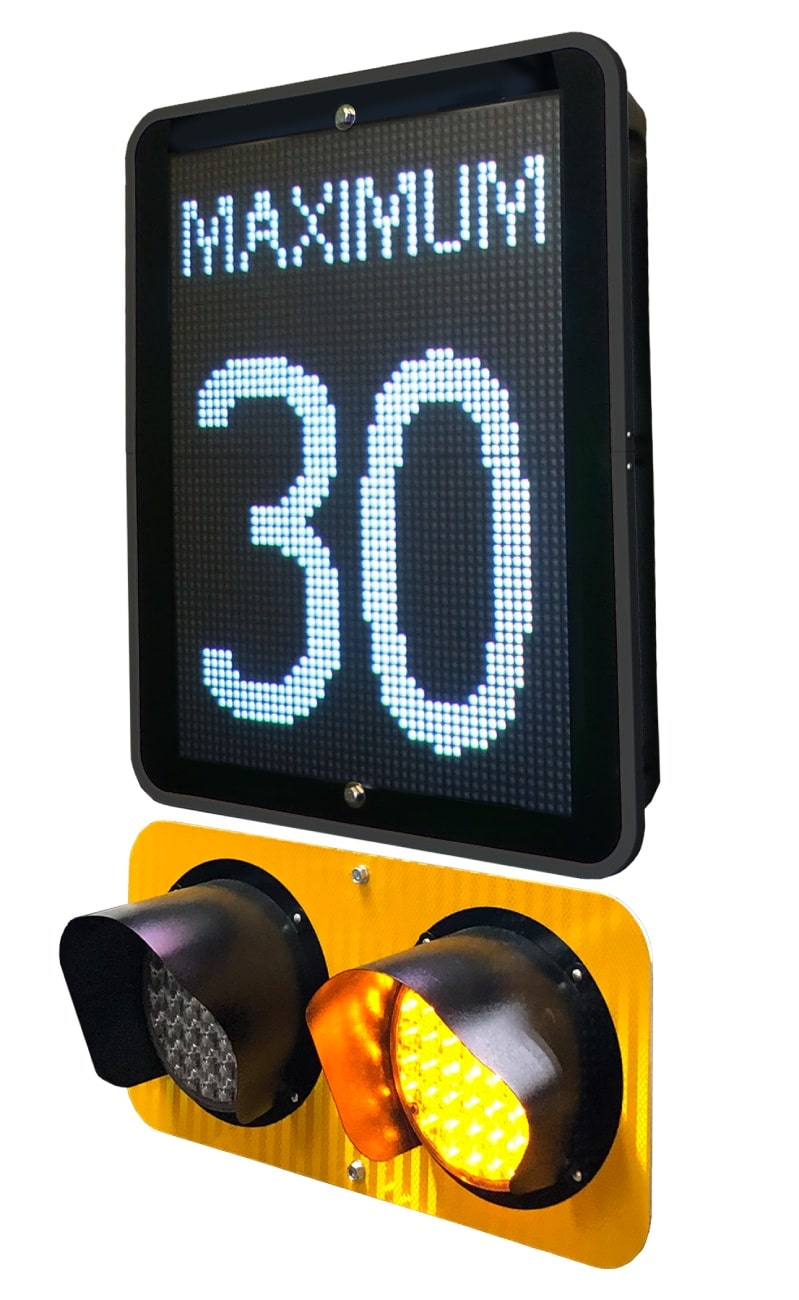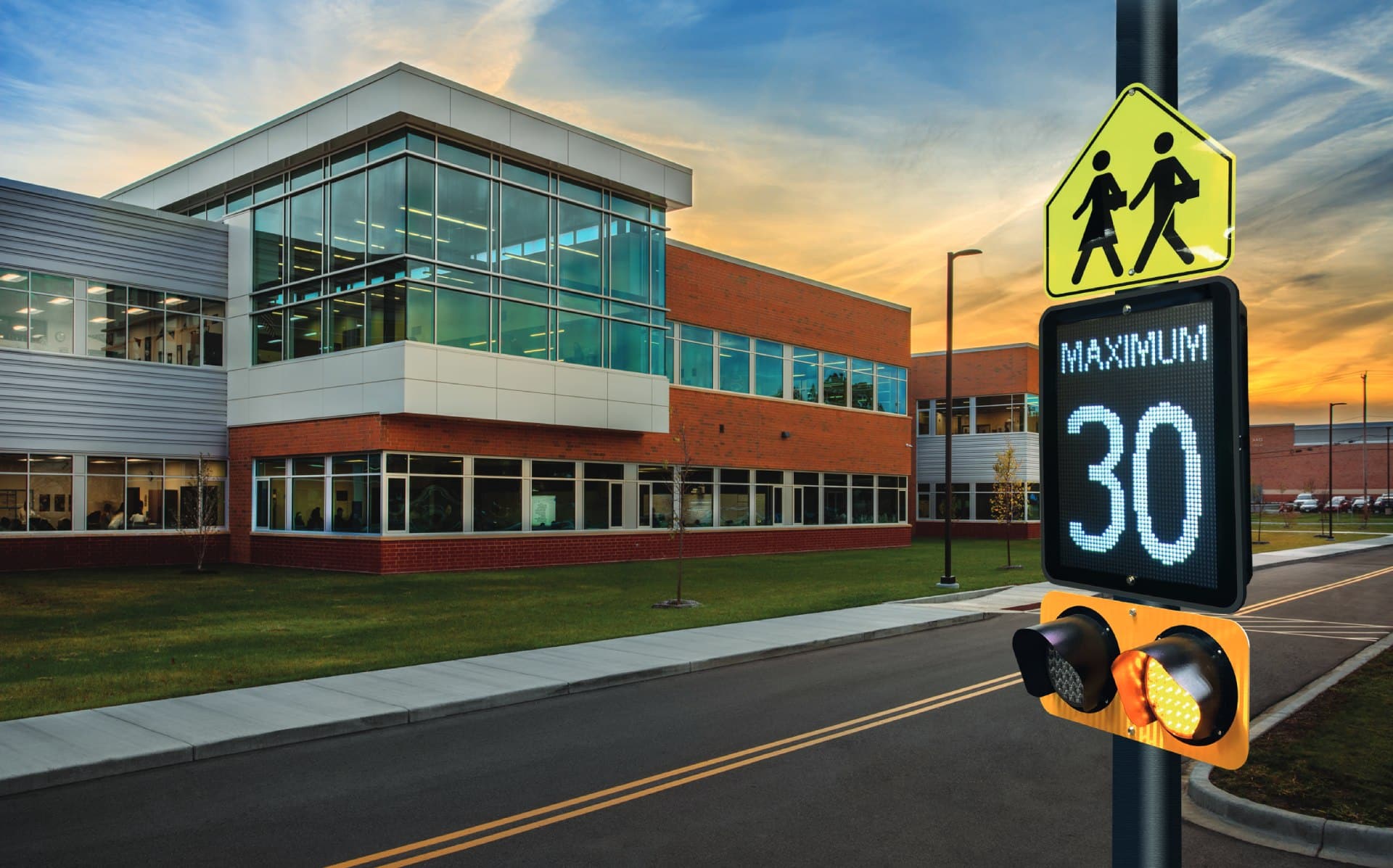 TECHNICAL SPECIFICATIONS OF THE
KAMELION PLVV SPEED DISPLAY SIGN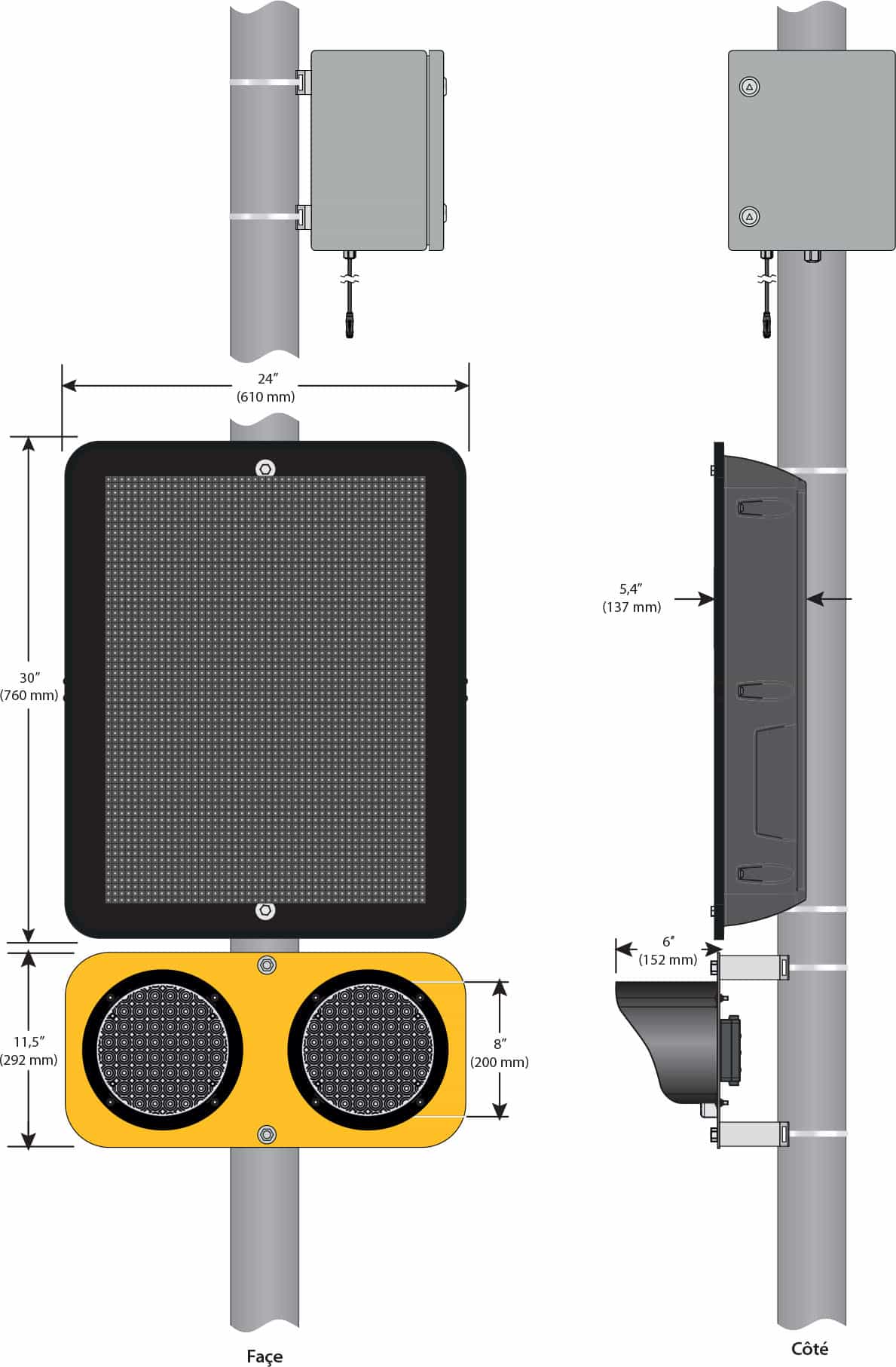 VARIABLE SPEED LIMIT SIGN
Housing: UV-treated polyethylene (PE)
Window: Anti-glare polycarbonate 5 mm (.188ʺ)
Voltage in: 10.8 to 15 VDC
Max Power @ 12 V: 188 W
Display Size: 640 x 480 mm (25ʺ x 19ʺ)
Resolution : 64 x 48 pixels
LED Angularity: 50° x 100°
Max height: 80 mm (3.2ʺ)
Digits height: 370 mm (14.6ʺ)
LED colors: White
Visibility: More than 200 m (656ʹ)
Auto-Dimming: Variable based on ambient light
Connector: 10mm OD, Male, 36ʺ, IP67
Communication: Bluetooth, 50 m (160ʹ) range
Waterproof Rating: IP54
Operating Temperature: -40 to +74°C (-40 to +165°F)
Weight: 12 kg (26 lb)
120-240 VAC ELECTRIC CABINET
Voltage in: 120-240 VAC
Battery: AGM /12V – 38Ah
Battery Charger: PWM, 5 A, IP67
Connector: 10 mm OD, Female, 6ʺ, IP67
Cabinet: Steel Gray Painted, IP66
Cabinet Size: 300 x 250 x 200 mm (11.8ʺ x 9.8ʺ x 7.8ʺ)
Operating Temperature: -40 to +74°C (-40 to +165°F)
Weight: 19 kg (42 lb)
FLASHING BEACON
Beacon Size: 200 mm (8ʺ)
Standard: ITE VTCSH-STD 2005
Color: Amber 590 nm
Auto-Dimming : Variable based on ambient light
Voltage in: 10.8 to 15 VDC
Max Power @ 12 V: 8 W
Communication: Wireless, 902 MHz
Connector: 10 mm OD, Male, 6ʺ, IP67
Flashing Pattern: 0.5 sec, 60 per minute
Activation: When lowest speed is displayed
Back Plate: Aluminum 5052-H38, 3 mm (0,125ʺ)
Reflective Sheeting: Type IV 3MTM High Intensity
Visor: Aluminum, black painted
Lens: Clear polycarbonate with anti-glare
Waterproof Rating: IP65
Operating Temperature: -40 to +50°C (-40 à +131°F)
Weight: 3.7 kg (8 lb)
Product number
Description
Box : Dimension – Weight
HSS Code
Assembly Kit
#38092
Variable Speed Limit Sign

37 x 28 x 11 po – 35 lb (KAM-PLVV)

12 x 24 x 8 po – 10 lb (Double flashing beacon)

12 x 16 x 12 po – 40 lb (AC/DC Power Converter)

8530.90
Included with beacon : Installation hardware for 4'' round post. 2 years Limited Warranty againts defects in workmanship and materials.
Included with system: Installation hardware for 100+ mm (4″+) round posts. 760 mm (30″) cable. Smart USB key to modify the flashing beacon configuration. Two (2) year Limited Warranty against defects in workmanship and materials.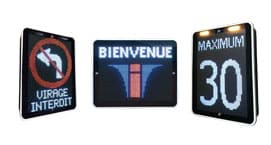 Kamelion Variable Message Sign
Full-matrix multi-color screen allows the display of variable road signs and citizen communication.
Find out more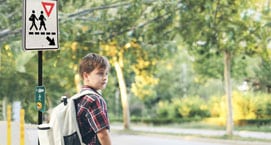 School Zone
The safety of our children is our top priority and drivers often need a reminder.
See the products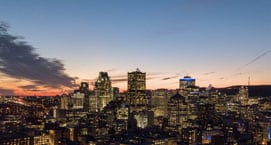 Smart Cities
Traffic Innovation offers several solutions for intelligent management of urban traffic.
See the products