VIASS Vehicle Intrusion Awareness Safety System
The VIASS is a rapid deployment assembly kit, solar powered with highly visible red rapid flashing beacons to ALERT the Wrong-Way driver about driving towards an imminent danger.


FEATURES
Radar detector
Raises driver awareness of fatal safety issue
Ready-to-go safety kit (plug & play system)
Light and thin system, enhancing security of existing signage infrastructure
Long-lasting lithium battery and 30 W Solar Power Unit
BENEFITS
2 directions data collection (vehicle size and speed)
A life-saving solution
Fast resolution of a security issue
Minimizes the cost of an installed project (budget-wise)
Almost maintenance free (10-year life expectancy)

Technical specifications of the
VEHICLE INTRUSION AWARENESS SAFETY SYSTEM – VIASS
Product number
Description
Box : Dimension – Weight
HSS Code
Assembly Kit
#37673
Vehicle intrusion awareness safety system – VIASS
—
8530.90
Included with beacon : Installation hardware for 2'' Telespar post, 2-3/8'' round pole, U-Post or streetlight pole. 30 in (760 mm) Male/female extension. Smart USB Dongle required to change configuration. 2 years Limited Warranty againts defects in workmanship and materials.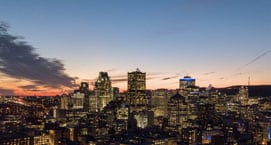 Smart Cities
Traffic Innovation offers several solutions for intelligent management of urban traffic.
See the products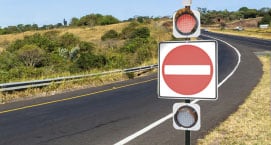 Road Channelizing
Effective communication of road hazards is essential to improving safety and traffic flow. Road channelizing prevents accidents.
See the products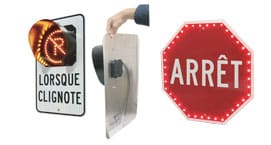 THIN LED Electronic Sign
The Thin LED Electronic Sign has a technology allowing electronic components to be embedded into the thickness of a standard traffic sign.
Find out more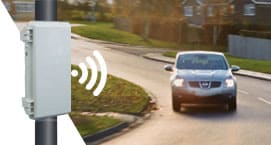 Analyzer and Radar Detector TNS
Discreet and non-intrusive traffic counter, analyzer and radar detector TNS for an in-depth understanding of your road traffic.
Find out more