DEFLEX Delineator Post for Lane Markings
YELLOW AND BLACK DEFLEX DELINEATOR TO SEPARATE LANES
The DEFLEX flexible delineator post for lane markings is capable of enduring repeated impacts while still channelizing traffic. Flexible, highly visible day or night from all angles, lightweight and resilient, the DEFLEX delineator is made of a treated polymer blend durable in all weather and can even retain its shape even after 200 impacts at medium speed. Available in a yellow shell with, depending on the road markings, yellow or white film.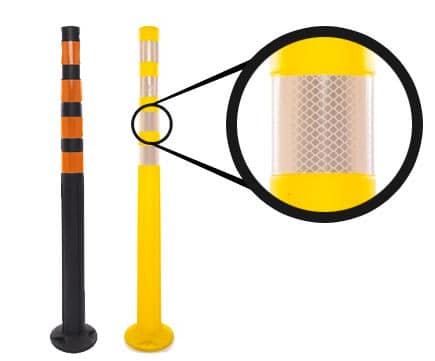 HIGHLIGHTS CHANNELIZING LANES

PREVENTS DRIVERS FROM CROSSING OVER SOLID LINES

IMPROVES VISIBILITY IN ALL WEATHER CONDITIONS

INCREASES SAFETY IN DANGEROUS CURVES


1200 mm (8″) HIGH WITH FOUR (4) REFLECTIVE STRIPES

EASY INSTALLATION ON MULTIPLE SURFACES


FEATURES OF THE DEFLEX DELINEATOR POST FOR LANE MARKINGS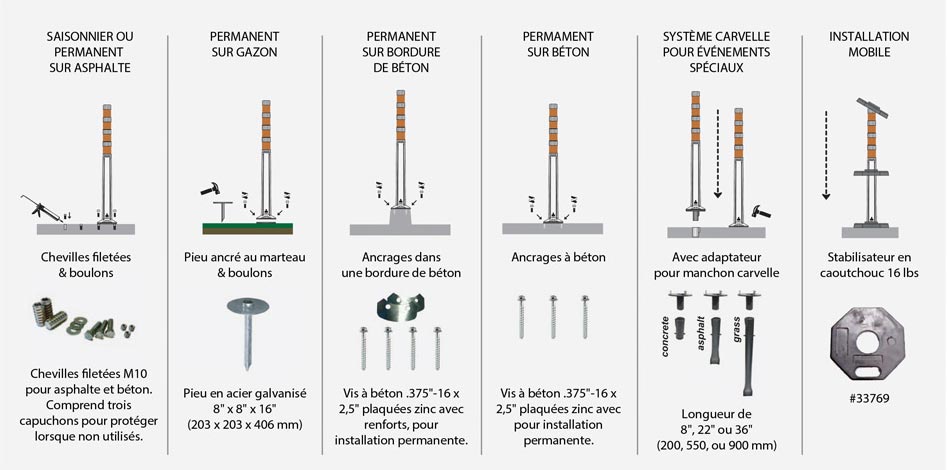 ADVANTAGES OF OUR DEFLEX DELINEATOR POST FOR LANE MARKINGS
360° DELINEATOR
Visible and flexible from all angles.
MONOHULL
No mechanical pieces for easy maintenance. Less debris if damaged.
VERSATILE INSTALLATION
This delineator can be installed permanently (bolted-in or glued), moved with a 7.25 kg (16 lb) weight base or anchoring system for an easy-in, easy-out installation.
UV-PROTECTED DELINEATOR AND SOLID COLOR
A protective additive embedded in the polymer prevents color on the delineator from fading.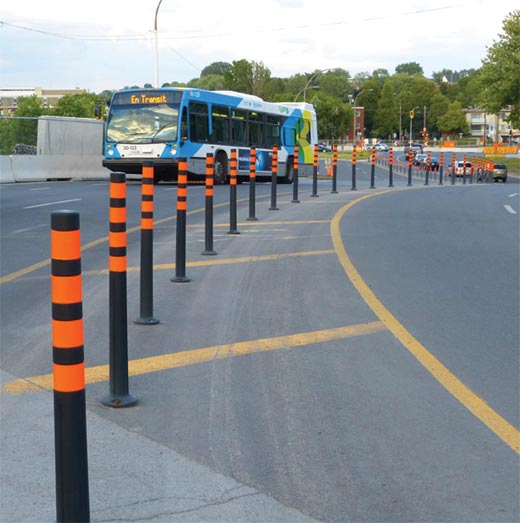 The DEFLEX delineator post is made of flexible polymer and regains its original shape after more than 200 impacts.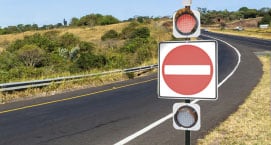 Road Channelizing
Effective communication of road hazards is essential to improving safety and traffic flow. Road channelizing prevents accidents.
See the products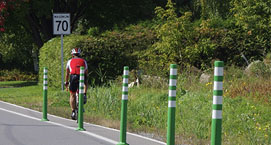 Bike lanes
We encourage bicycle use by providing solutions that increase road safety for the more vulnerable.
See the products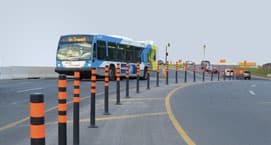 Flexible delineator
Flexible road delineators that maximize safety for all road users, available in several colors.
Find out more

Rubber stabilizer 7.25kg / 16lb #33769

Standard installation kit #31094

Adhesive mastic for temporary installation #MA8C-DEFLEX

K-style sleeve anchor adapter #BS114-K

Sleeve anchor adapter #BS114

TECHNICAL SPECIFICATIONS OF THE
DEFLEX DELINEATOR POST FOR LANE MARKINGS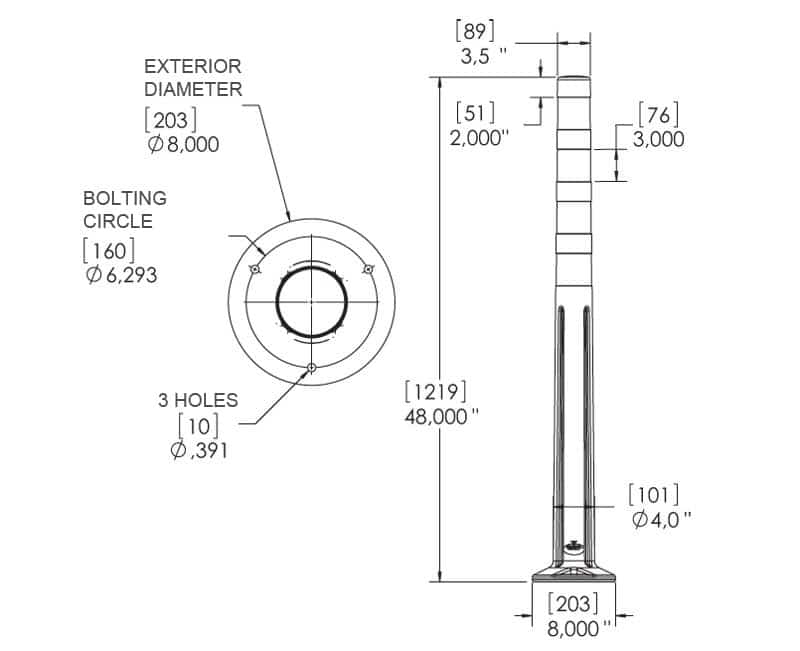 PRODUCT NUMBER
33001: Yellow with Yellow Sheeting
30818: Yellow with White Sheeting
33853: White with Yellow Sheeting
33391: Black with Fluorescent Orange Sheeting
MATERIALS
Delineator: Flexible Polymer with anti-UV
Sheeting: Diamond grade "prismatic", type IV 90 mm (3.5″)
PERFORMANCE
360° of flexibility and visibility.
The Deflex delineator withstands 200 impacts at 70 km/h (45 mph) and regains its original shape, even after being crushed by the wheels of heavy trucks.
DIMENSIONS
Height: 1220 mm (48″)
Diameter: 90 mm (3.5″)
Weight: 1.5 kg (3.3 lb)
Sheeting: 76 mm (3″)
FEATURES
Proven product for over five (5) years in harsh weather conditions from -20 to +35°C (-4 to +95°F).
COMPONENTS
Molded-in and non-detachable flexible cap.
Four (4) embedded stripe sections protected from damage.
3M prismatic grade (type IV) reflective sheeting, flexible and visible on 360°.
Many colors available, pigment integrated into the polymer material.