DEFLEX Flexible Delineator Post for Traffic Calming
BLACK, WHITE AND YELLOW DEFLEX DELINEATOR FOR NARROWING EFFECT
Looking for a traffic calming idea to promote safety on the roads? Our DEFLEX Flexible Delineator for Traffic Calming is a quality product that promotes security of all road users. Able to withstand repeated impacts while still blocking and diverting traffic. Flexible, highly visible day or night from all angles, lightweight and resilient, the DEFLEX delineator is made of a treated polymer blend durable in all weather conditions. This delineator even retains its shape even after 200 impacts at medium speed. Available in a black, white, yellow shell with white or yellow reflective sheeting, depending on the road marking.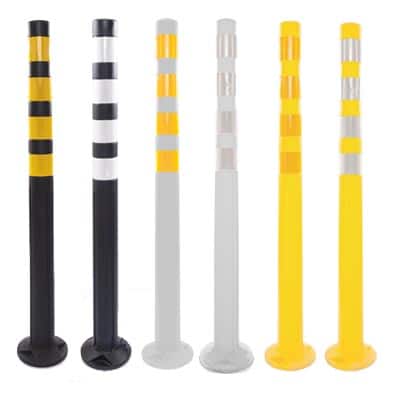 CLEARLY HIGHLIGHTS CROSSWALKS

HIGHLY EFFECTIVE TRAFFIC CALMING TOOL

EASY INSTALLATION ON MULTIPLE SURFACES

NARROWING EFFECT REDUCES SPEEDS

1200 mm (48″) HEIGHT WITH REFLECTIVE SHEETING

FLEXIBLE POLYMER WITHSTANDS 200 IMPACTS

FLEXIBLE AND VISIBLE 360°


FEATURES OF THE
DEFLEX FLEXIBLE DELINEATOR POST FOR TRAFFIC CALMING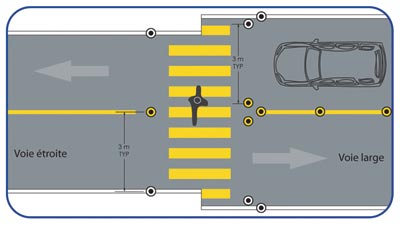 CROSSWALK TRAFFIC CALMING POSTS
Our DEFLEX delineator is a great traffic calming idea. Installing the Deflex delineators three (3) meters apart will create a narrowing effect and reduce the speed of oncoming vehicles. The delineators will also reinforce the crosswalk lines which will help drivers establish its position and improve safety for pedestrians.

Durable and flexible bike path delineator and bollard
The DEFLEX delineator post is made of flexible polymer and regains its original shape even after more than 200 impacts.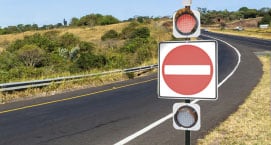 Road Channelizing
Effective communication of road hazards is essential to improving safety and traffic flow. Road channelizing prevents accidents.
See the products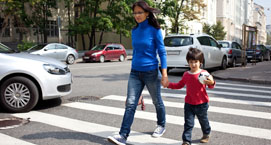 Crosswalks
Visibility and signage compliance are of the utmost priority at pedestrian crossings.
See the products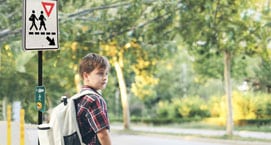 School Zone
The safety of our children is our top priority and drivers often need a reminder.
See the products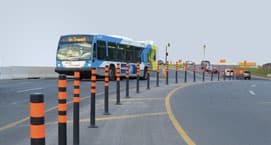 Flexible delineator
Flexible road delineators that maximize safety for all road users, available in several colors.
Find out more

Rubber stabilizer 7.25kg / 16lb #33769

Standard installation kit #31094

Adhesive mastic for temporary installation #MA8C-DEFLEX

K-style sleeve anchor adapter #BS114-K

Sleeve anchor adapter #BS114

TECHNICAL SPECIFICATIONS OF THE
DEFLEX FLEXIBLE DELINEATOR POST FOR TRAFFIC CALMING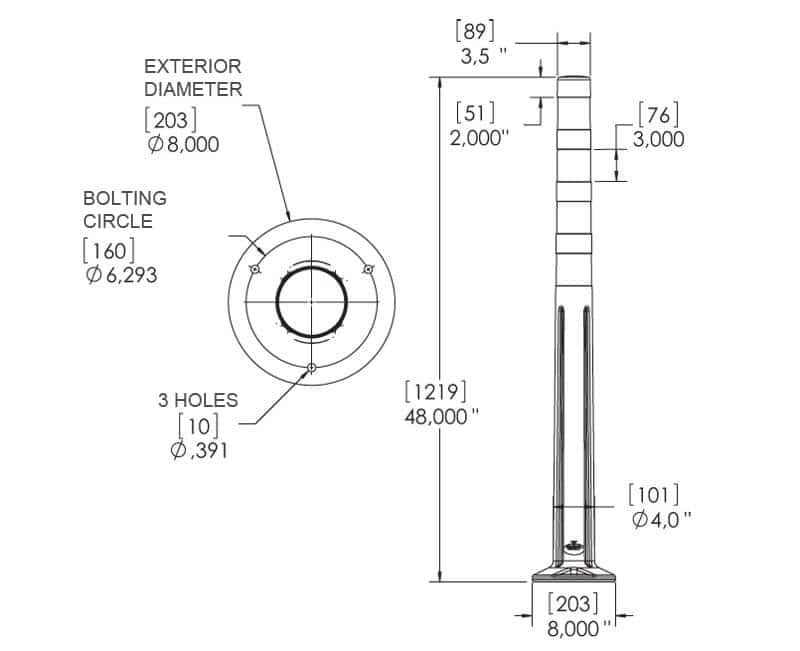 PRODUCT NUMBER
30819: Black with Yellow Sheeting
32416: Black with White Sheeting
33001: Yellow with Yellow Sheeting
30818: Yellow with White Sheeting
33853: White with Yellow Sheeting
33558: White with White Sheeting
MATERIALS
Delineator: Flexible Polymer with anti-UV
Sheeting: Diamond grade "prismatic", type IV
COMPOSITION
Molded-in and non-detachable flexible cap.
Four (4) embedded stripe sections protected from damage.
3M prismatic grade (type IV) reflective sheeting, flexible and visible on 360°.
Many colors available, pigment integrated into the polymer material.
DIMENSIONS
Height: 1220 mm (48″)
Diameter: 90 mm (3.5″)
Weight: 1.5 kg (3.3 lb)
Sheeting: 76 mm (3″)
FEATURES
Proven product since 2012 in harsh weather conditions and in temperatures between -20 and +35°C (-4 and +95°F).
PERFORMANCE
360° of flexibility and visibility.
The Deflex delineator withstands 200 impacts at 70 km/h (44 mph) and regains its original shape, even after being crushed by the wheels of heavy trucks.