Kamelion-15 Speed Radar Display Sign
EDUCATIONAL DISPLAY WITH ADVANCED ELECTRONIC SIGNAGE
The Kamelion-15 educational display offers many advantages over conventional speed displays. Its color screen allows you to display 381 mm (15″) digits in green, yellow or red, which improves the visibility and reaction time of drivers.
The full matrix screen of this educational radar can display pictograms, emojis and pre-programmed or programmable text messages that interact positively with drivers.

Two built-in rectangular rapid flash beacons (RRFB) can be adjusted if necessary to alert in case of excessive speed.

These three elements make the Kamelion the most efficient speed reduction and communication tool on the market.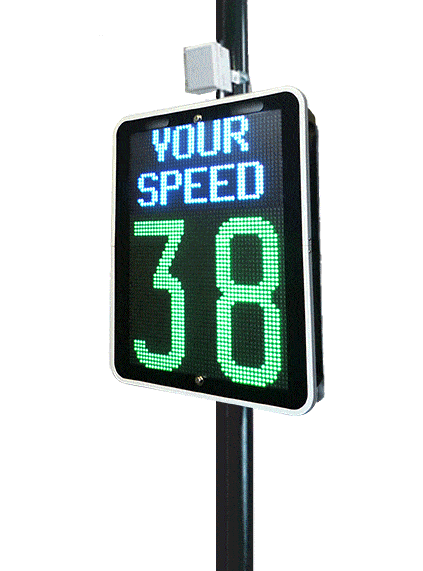 WHY CHOOSE THE KAMELION-15?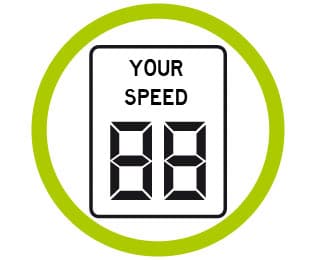 FULL MATRIX SPEED DISPLAY
The Kamelion-15 is a 7-color, full-matrix speed display sign. With its 640 x 480 mm screen, it is possible to display digits with a height of 380 mm (15″) while leaving enough space for a text box. The size of the screen enhances the visibility and efficiency of the panel and allows the use of the sign on roads where the speed is greater than 60 km/h (37 mph).
The specially designed educational radar allows the configuration of the speed display sign. More than 10 preprogrammed pictograms are available depending on the displayed speed. In addition, the radar allows data collection and RRFB activation on the panel, for excessive speeds.
SPEED DISPLAY UPDATE – VMS
The Kamelion-15 educational radar can be enhanced in the VMS software to become a Kamelion VMS and make it possible to use it as a speed display sign or as a variable message sign. It is therefore a versatile tool that can suit different situations and the needs of its user. Whatever the situation, whether to reduce speed or to convey a message, you will find the Kamelion-15 educational speed display will be quite useful!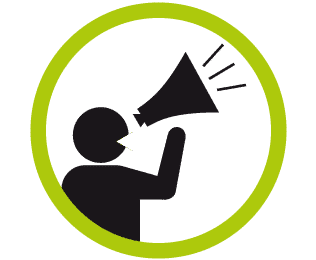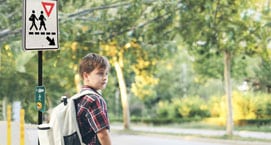 School Zone
The safety of our children is our top priority and drivers often need a reminder.
See the products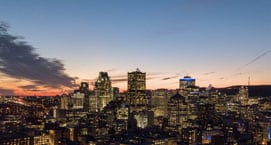 Smart cities
We offer solutions for smart urban traffic management.
See the products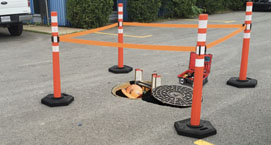 Work zone
We develop tools that increase safety for road workers and drivers.
See the products

TECHNICAL SPECIFICATIONS OF THE
kAMELION-15 SPEED RADAR DISPLAY SIGN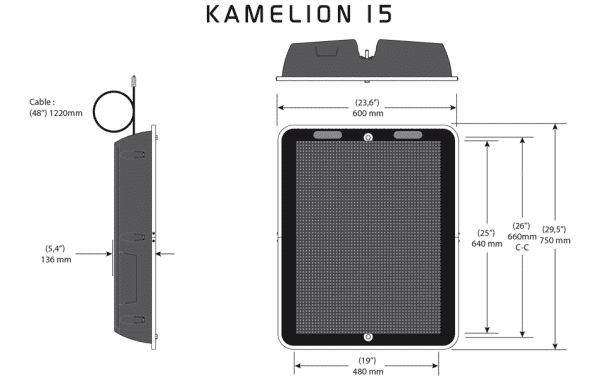 PRODUCT NUMBER
KAM-15-S: #37661 (Solar)
KAM-15-S: #38199 (Solar + CLOUD)
KAM-15-E  #37768 (Electric)
KAM-15-E: #38200 (Electric + CLOUD)
MATERIALS
Housing: UV-treated polyethylene (PEHD)
Front Panel: Anti-reflective polycarbonate 5 mm (.188″)
Water Resistance: IP65
Weight: 12 kg (26 lb)
SHIPPING INFORMATION
Box: 914 x 610 x 102 mm (36″ x 24″ x 6″)
Weight: 13 kg (28 lb)
ELECTRICAL COMPONENTS
Screen Format: 480 x 640 mm (19″ x 25″)
Resolution: 48 x 64 pixels
Angularity: 50° x 100°
Visibility: more than 300m (1000ʹ)
Colors: RGB (red, blue, green) for 7 colors
Max Power Consumption: 180 Wh (day) – 70 Wh (night)
Voltage In: 10.8 to 15 VDC
Flasher: 2 x 18 W amber flashers
Connector: "Snap-in", overmolded IP67, 10 mm OD
Communication: USB or Bluetooth, range of 50 m (160ʹ)
Operational Temperature: -40 to +65°C (-40 to +149°F)
Power Sources : Batteries located in the solar power unit (Lithium)